The web apps available for composing photo stories are typically classified as "digital storytelling" as well as Web 2.0, meaning that you can compose, publish, and share your story all on the same web site.
Most photo story apps allow you to use images and text (written and/or audio recorded) to tell your story, but the final version is output through a web player, rather than in video format.
Storybird.com
Storybird provides a platform for you to publish digital books in two forms: longform (more words than visuals) and picture book (more pictures than words). The only pictures you can use are those provided by the site, but they have a huge selection of beautiful artwork to choose from.
Here's some info from their web site:
Storybird is a visual storytelling community. A global hub of readers, writers, and artists of all ages. Our idea: let anyone make gorgeous, art-inspired stories in seconds. That simple idea has made us indispensable for millions of people.

Our particular niche is inspiring people with gorgeous illustrations and focusing them on unlocking the stories hidden in the art. We've found this to be a tremendously exciting way to inspire the most reluctant writers and readers.
To share your story, either give others a link to the web version or embed the story in a blog post, like this:
Cowbird.com
Cowbird is a very popular site for short personal narratives accompanied by one cover image. (Additional images are allowed for those who upgrade from the free plan.) Narratives are presented for reading but may also be played as audio voiceovers.
From the web site: "We are a community of tens of thousands of storytellers, located all over the world. We offer free and simple storytelling tools for anyone to use, combining photos, audio, and text into heartfelt personal vignettes. We've designed Cowbird to reflect the basic truths that all human lives are interconnected, that great stories can come from anywhere, and that we can learn a lot from each other, once we make the time to listen."
Review: How Cowbird Transforms Storytelling on the Web
To share your story, either give others a link to the web version or embed the story in a blog post, like this:
StoryJumper.com
StoryJumper is oriented towards grade school kids, but it might be a good choice if you want to make a project that looks like a kid's book. You can use your own images or their collection of clip art. Here's a sample that clearly shows an author using their own images.
Narrable.com
Narrable allows you to make photo stories with audio narration.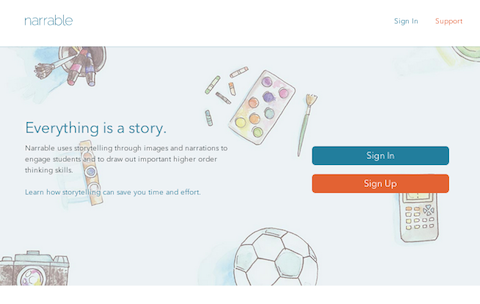 Memloom: Weaving Memories
Memloom lets you tell stories with photos, audio, and video. Upload your own photos and audio. (Not yet sure how to get video in there — possibly an embed.)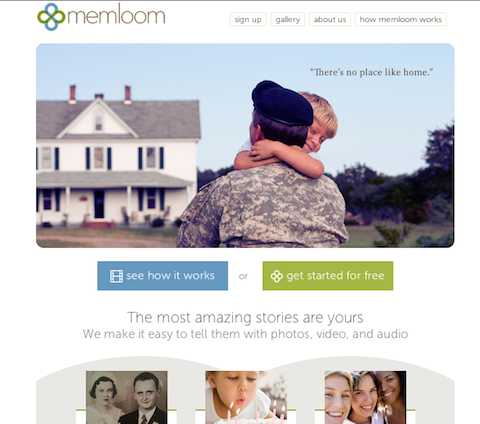 Jux.com
From the Jux description: "Jux is the best showcase for your stories. Share words, photos and videos with unprecedented ease and impact. Fullscreen on every screen. Desktop, iPad and iPhone."
This is almost more of a visual blog platform, but you could certainly use it to put together a compelling visual-based story.
Read this PC Mag review to learn more about how to make good use of Jux.