SLIDE VERSION
ARTICLE VERSION
WRONG WAY
Pasting a plain URL is the wrong way. WordPress will not automatically turn URLs into clickable links, the way Facebook and G+ does, so pasting a plain URL is not particularly helpful to readers.
RIGHT WAY
Turning a word or phrase into a hyperlink to the URL is the right way.
HERE'S HOW:
(1) In the body of your post, select the text you want to turn into a link and then you'll have access to the Insert Link button.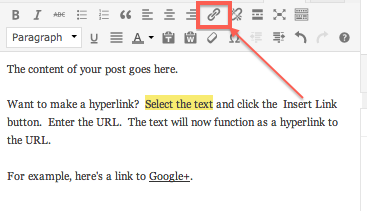 (2) Click on the Insert Link button, enter the target URL in the box that opens, and click Add Link. That's it!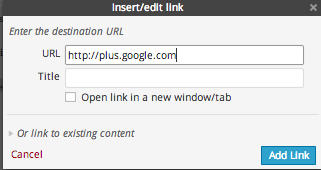 Now you'll see that the text you selected has turned into a hyperlink in your post editing window. To make certain your link works, view your post on the "front end" and test it out. If it doesn't work, return to the post editing window and fix it.
TROUBLESHOOTING
Here's the most common culprit for links that don't work:

To edit a link, select the linked text in the post editing window, click the Insert Link button, and make the necessary changes.