You can upload files to Google Drive or create them using one of Drive's many tools, and these items will appear by default in your main My Drive directory, where they are private to you only.
If you want to share files with a group that has a shared folder set up, you can move these files into the shared folder. But first you need to know how to find the shared folder.
This page explains how to find a shared folder and add it to your My Drive menu for easy access.
STEP 1: FIND THE SHARED FOLDER
Option 1: Follow the link
If you already have a link to the shared folder, follow it. The folder will open and you can go ahead and use it, but you won't yet have a shortcut to it in your My Drive menu. Skip to step 2 to find out how to create a shortcut.
NOTE TO MY STUDENTS: You'll find a link to our main shared folder on the sidebar of the Class HUB.
Option 2: Find it in Google Drive
Get there from any Google apps menu or simply drive.google.com
If you're using the interface as of September 2014, click on the Incoming link in the sidebar and you should see a list of items shared with you, like this:
If you're using the older interface, the link is called Shared with Me instead, like this: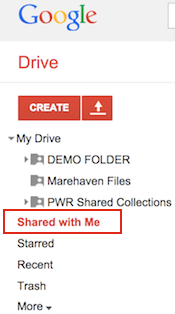 NOTE TO MY STUDENTS:  Here are the titles of my Fall 2014 class folders:

STEP 2: ADD TO DRIVE MENU
Select your class folder and click the "Add to Drive" button.
Current Interface Example

Old Interface Example #1
Old Interface Example #2
YOUR END GOAL: A SHORTCUT TO THE SHARED FOLDER
NOTE: Your goal is to add a shortcut to the shared folder to your My Drive menu. DO NOT create a new folder yourself and put the shared folder inside it, as that will hide the shared folder from everyone else but you.
Here's what the end goal looks like: the shared folder appears along with other items in your My Drive menu, where you can easily access sub-folders by clicking the drop-downs: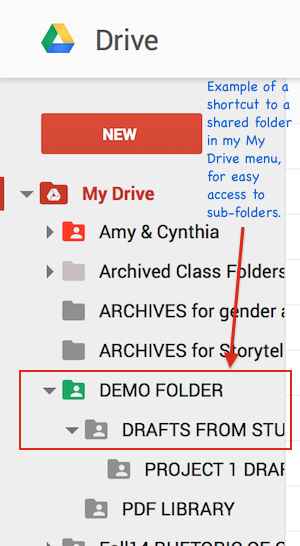 FYI: You can tell if a folder is "shared" because it will have a white icon of a person's head on it.