RELATED RESOURCES:
QUICK ACCESS AND SETTINGS
WRTG 3020 students can find a link to our G+ community on the sidebar of the Class HUB.
You can bookmark the community page in your web browser, but you might find it easier to get there through the Google+ navigation menu.
Go to any Google page while logged in and click on the +Yourname button for quick access to Google+  Then click on the Home icon on the left side of the page, which will drop down a menu like the one shown below.   Choose Communities to find your class community.
You can also edit your profile and customize your Google+ settings from this menu, and I highly recommend you do so to reduce unwanted messages.
SET EMAIL NOTIFICATIONS
Turn email notifications on or off by clicking on the Notifications link below the title for your class community. This will prevent Google+ from sending you messages by email, but you'll still see a web notification, as described below.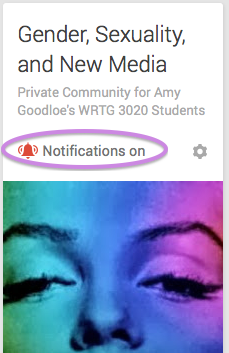 WEB NOTIFICATIONS
When another member responds to or likes one of your posts, you'll see a number appear by the little grey "alarm bell" in the upper right corner of any Google page you see while logged in.

MORE HELP USING GOOGLE+
If you've never used Google+ before, I recommend that you browse through some of the Getting Started resources on the Google+ Help Pages: https://support.google.com/plus/?hl=en#topic=3049661