RELATED RESOURCES:
You can share links on our G+ community in several ways. The two most common are directly on the community page OR by using a G+ button on an article or video.
METHOD 1: DIRECTLY ON COMMUNITY PAGE
(2) Open the community page
Use the link on the Class HUB sidebar or go through your Communities page on G+ (in your Home menu, as shown here)
(3) Click on the link icon
Here's an overview of when to use each icon:
If you've already clicked inside the new post box, the link icon will be yellow.
(4) Paste the URL you copied in step 1
(5) Finish your post
Write a comment on the link, choose the category, and click Share.
METHOD 2: USING A G+ BUTTON
Most popular web sites these days have sharing buttons, but they may be in different places. Below are two common places to find G+ sharing buttons.

(2) Fill in info
On some sites, a small window will pop-up where you can fill in necessary info, as shown below. If our community doesn't appear right away in the drop-down, just give it a moment.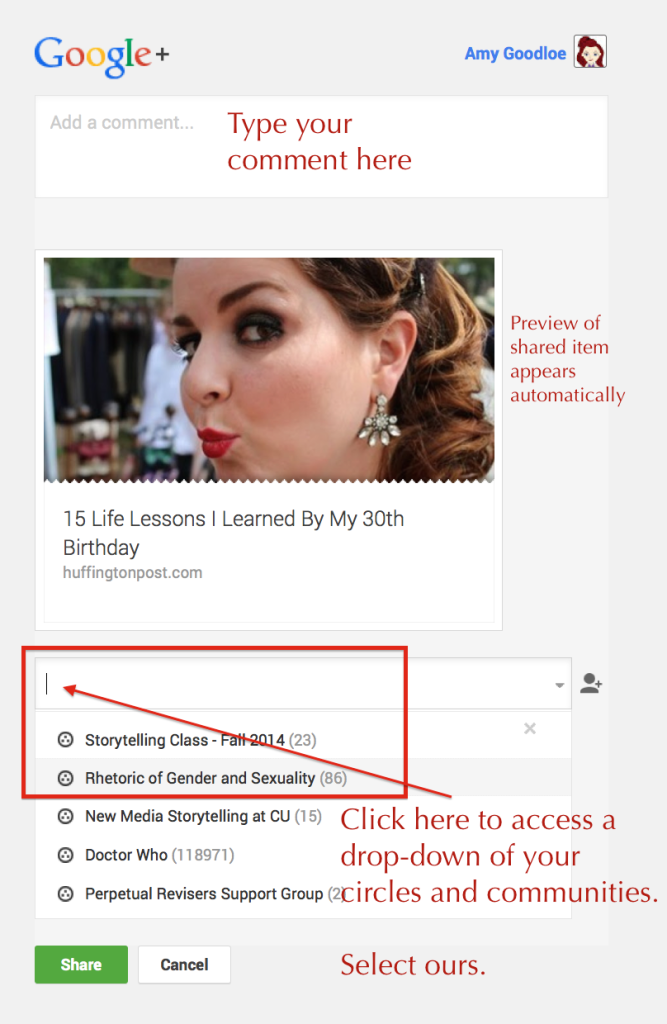 (3) Select category and post
After you select our community, you'll need to select a category for your post. Sometimes it takes a few moments for the categories to appear, just FYI.
That's all there is to it! If you visit the community's page, you'll see your shared item.
POSTED THE WRONG THING BY MISTAKE?
You should be able to click on a small down arrow that appears when you hover over the upper right corner of your own post. A drop-down menu should appear that gives you the option to edit or remove your post.
If for some reason you don't see that menu or it doesn't include an option to delete the post, let me know and I'll delete it for you.
POSTED ON YOUR MAIN G+ FEED INSTEAD OF THE COMMUNITY?
If you discover that something you intended to share with our G+ community doesn't appear there, check your main Google+ feed at plus.google.com
If you see the post there, you can use the "reshare" button to share it with our community, following these steps:
(1) Click the "reshare" button and choose "Reshare"

(2) Delete the "Public" circle. Then wait for our Community to appear as an option.

(3) Choose our Community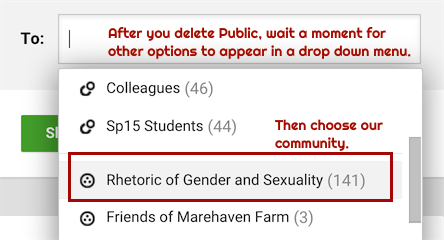 (4) Choose a category and then click Share