Below are a few tips I put together for those of you using Blogger/Blogspot. I'm assuming you've already set up your blog on blogger.com because that part is pretty simple.
For Google's help pages on Blogger, see: Blogger Getting Started Guide
Create a New Blog
While you're logged into the Google account you want to use for your blog, visit blogger.com and click on the New Blog button.
Enter a title for your blog as well as the phrase that will serve as your blog's URL.
I recommend that you chose the Awesome template now, but you can also change it later.
Blogger Dashboard
Here's an example of what your Blogger dashboard might look like, depending on how many blogs you have. (I have three.)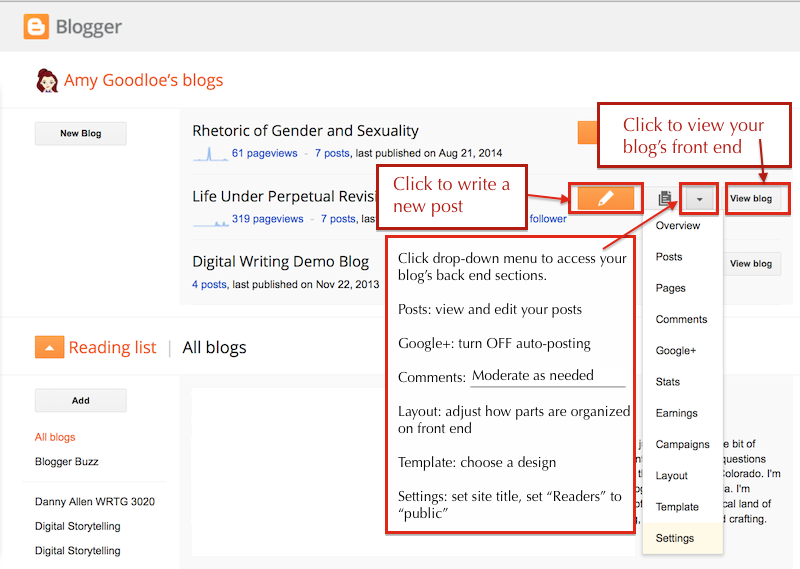 Your own Blogger dashboard is always available at blogger.com/home, as long as you're logged into the right Google account. You can also get to the dashboard from the front end of your blog by clicking on the Design link:
Your Blog's Basic Settings
This is the first page that shows under the Settings tab on your blog's Dashboard.
As you can see below, here's where you can change the title and description and also make sure the blog will be visible to the public. Whether you want the blog indexed by search engines is up to you.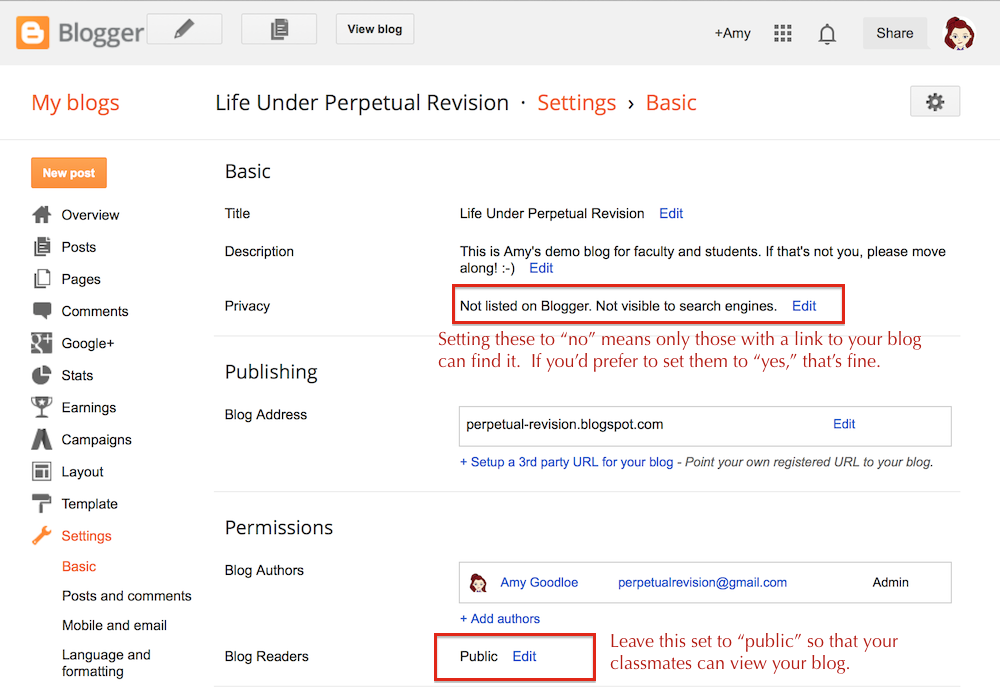 Settings for Who Can Comment
Be sure to enable comments from Google users so your classmates can comment on your posts! As for comment moderation, I recommend either "never" or on posts older than 30 or 60 days (so random people won't try to comment on your posts three years from now).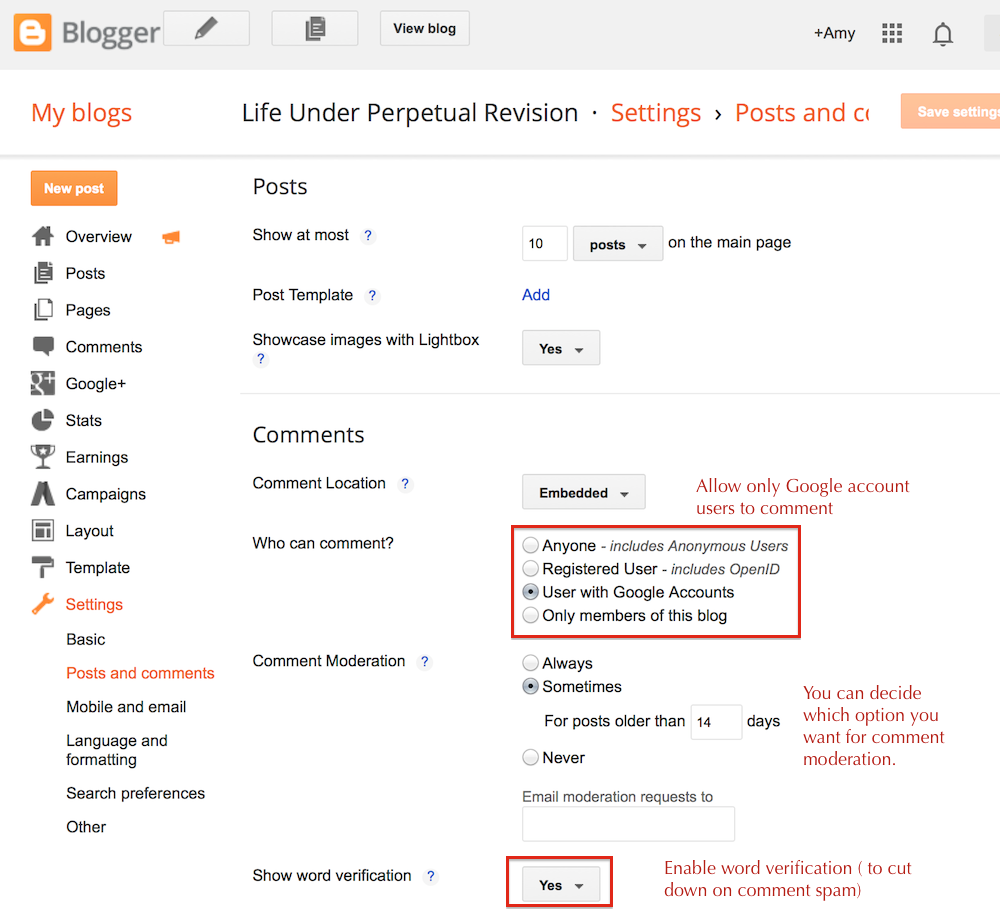 Turn Off Auto-post to G+
This is on by default, so PLEASE TURN IT OFF! Otherwise everyone you follow on G+ will get an update every time you post something to your blog.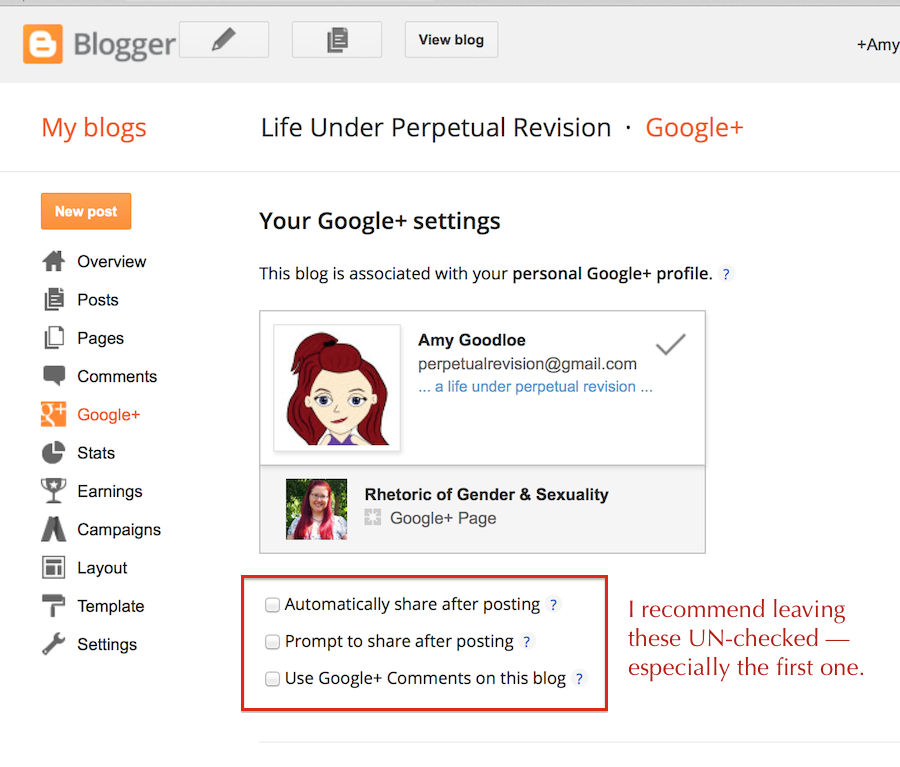 How to Change the Layout (not template)
The layout controls the placement of each component, particularly the sidebar and footer. You can move things around and add new "gadgets" to the sidebar.
At a minimum, add a gadget for Post Labels if your theme doesn't already put that there automatically. Also consider adding a profile gadget and perhaps links to your blog circle members' blogs.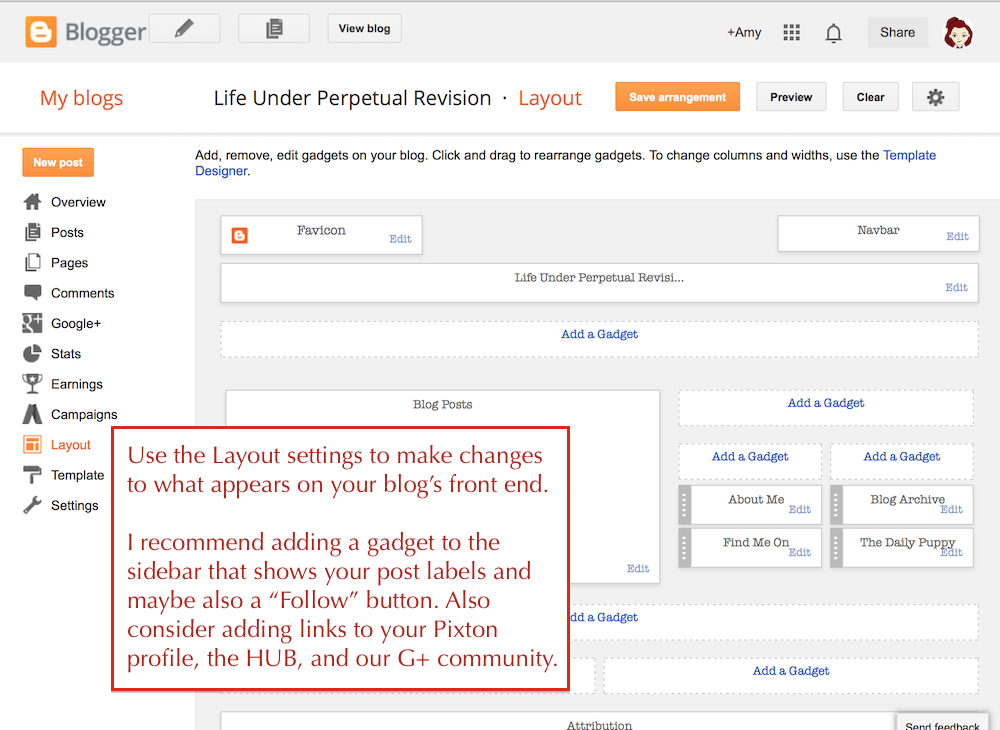 How to Change the Template (not Layout)
The template controls the design elements, like the background image, the color and size of the text, and the width of each element.
Try out different templates until you find one you like.  You can edit a template to further customize the design, if you like it except for one aspect.
How to Follow Other Blogger Blogs
If you want to see recent posts from your circle members when you log onto the Blogger dashboard, follow these steps to "follow" each of their blogs.
Accept Author Invitation
If someone sets up a group blog and invites you to be an author in it, you'll get a message like this.