To make a post "stick" to the top of your most recent blog entries page, even after you've posted newer entries, make it "sticky." (This option is only available on blogs where you have sufficient permission, so depending on which blog you're using, you may not see the sticky option.)
To make a sticky post, click on the link to Edit next to "Visibility," in the Publish box in the upper right corner of the post editing page, as shown below.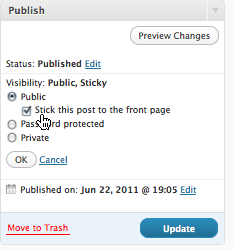 Click OK, and then click the blue Publish or Update button.
You can also add or remove sticky status by using the QuickEdit option on the Posts page, as shown below.