Being able to put highlight passages in and put notes on a PDF file is extremely useful, particularly for students who don't want to have to print out lots of documents but who need to take notes on them either to learn the material or to use the material in a paper.
Students in my sections of WRTG 3020 may be asked to create an annotated guide to an academic article in PDF format, so they'll need to use a PDF application that has annotation features.
Recommended Apps
My previous students who use Windows 7 had good things to say about this app: PDF-XChange Viewer, which is available in a free trial version. If you come across an app you find particularly useful, please send me info on it so I can add it to this page as a possibility.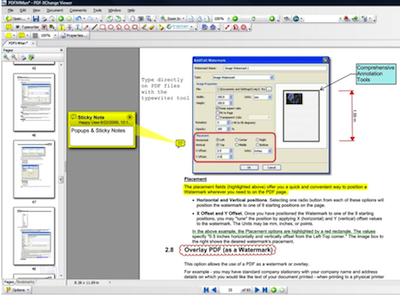 Adobe Reader
If you use a Windows PC, you most likely already have Adobe Reader on your computer, and you can use that to annotate PDF files. However, I do not recommend using it as students have had trouble with it in the past, particularly with it losing all the comments they worked so hard to write. If you do use it, you might want to periodically print out PDF pages with your comments on them, so you have a backup if anything happens to the file itself.
For instructions on using Adobe Reader, see this page on the Adobe web site: What you can do with Adobe Reader.
Other PDF Apps
If you try PDF-XChange Viewer and don't like it, search the web for another Windows app that allows users to annotate PDFs. Be sure to choose one that allows you to put notes in the margin rather than on top of the PDF text itself, so that you have plenty of space for comments.
To find apps, do a Google search with terms like: free annotate PDF Windows (if you use XP or Vista instead of Windows 7, maybe put that word in there as well)
Or you might browse this list of PDF software on Wikipedia.