DESKTOP APPS
Additional Info
WEB APPS
GoAnimate.com
GoAnimate.com is a free web tool that lets you make short cartoon-style animations. You write the script and then choose from a collection of characters, sets, voices, and so on.
TIP: Choose a British accent for your character and it won't sound quite so robot-like.
TO SHARE: Provide a link to the web version, export to YouTube (where you can download and edit further), or record with a screencast app.
EXAMPLES: Browse the tag archive for GoAnimate
More Web Apps to Check Out
Also Google terms like: free animation creator, free animation tools, free flipbook tools
MOBILE APPS
Here's one of the winners of Animation Desk's 2013 Animation Contest:
DESKTOP APPS
Animated Stories
Animating with Slide Presentation Apps
The three main slide presentation apps, Keynote (Mac iPad or desktop), PowerPoint (Mac and Windows), and Google Slides (web) all have the ability to animate text and objects using a simple keyframe approach.
The resources below are on animating with PowerPoint, but you can find resources on the other apps via Google searches.
WEB APPS
Wideo.co
From the Wideo.co home page: "Wideo is the perfect online video tool, that allows you to easily make animation videos for your product demo, presentations, teaching lessons, or just to have some fun. It has never been so intuitive to create an online video. With Wideo anyone can make cool videos."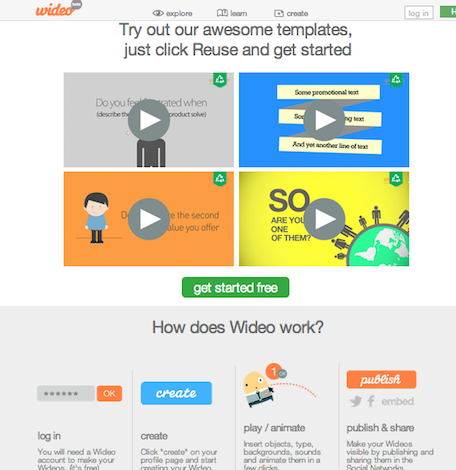 Check out how easy it is to use keyframe animation using this app:
MOBILE APPS
DESKTOP APPS FOR 3D ANIMATION
Free apps for 3D animation:
More Apps
ANIMATED GIFS
You can find many more through your own web searches.