Apps for working with images come in two varieties: pixel-based and vector-based. Pixel-based apps are best for editing photos and making images out of layers, while vector-based apps are best for drawing shapes that can be resized without loss of quality. For more, see this Wikipedia page: Graphics Software
You can use photo management apps like iPhoto or Windows PhotoGallery to make a few improvements to photos, but these are not image editors.
WEB APPS – PHOTOS & IMAGES
Web apps have the advantage of working on all platforms, and yet they're increasingly powerful enough to compete with the more expensive desktop apps.
Pixlr.com
I highly recommend Pixlr.com and have taught many students to use it to create blog headers. See it in action in my screencast on making blog headers with Pixlr.
NEW: Autodesk now offers a downloadable version of Pixlr for Mac and Windows.
Other Image Editors
Vector Drawing
WEB APPS – GRAPHICS
Canva.com
All I can say about Canva is WOW. Making pretty web graphics has NEVER been this easy!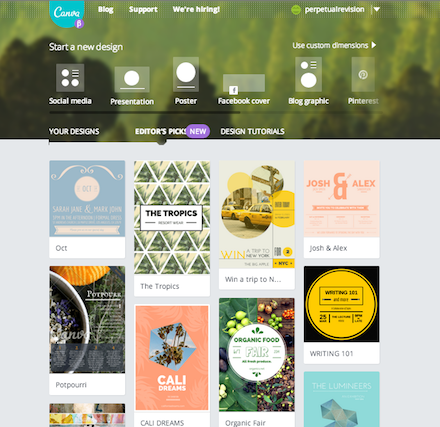 See also:
DESKTOP APPS FOR MAC
Image Editors
These are full fledged raster (or pixel) based image editors that follow a layout and interface paradigm comparable to Photoshop. But they're a LOT cheaper and easier to use, as very few people need access to what Photoshop can do.
However, when I say these are "user friendly," that doesn't mean you'll magically figure out how to use them the moment you open them. If you're new to image editors, you still have to do some tutorials to understand basic concepts like working with layers and blending modes and understanding what all the tools do.
* I use Pixelmator and couldn't recommend it more highly. I find it much more user friendly than Photoshop for creating graphics and images, plus I can have it on all my Macs. It accepts Photoshop brushes and plugins and can also open and save files in Photoshop format. (I also have Photoshop CS5, as there are a few things only Photoshop can do.)
Vector and Drawing Apps
Photo Editing & Effects
These are specialty apps that tend to focus on one set of effects, making them much more accessible than they are in Photoshop.
DESKTOP APPS FOR WINDOWS
FIND MORE DESKTOP APPS
Here are a few places to search for freeware and shareware apps for working with images:
Comparisons of available software:
MOBILE APPS
The number of mobile apps available for working with images grows every day, so I've given up on trying to list them. To get the most recent reviews, put your mobile platform (iOS or Android) in the Google search bar and then try these search terms one at a time (as each search will produce slightly different results): best photo apps, best image editing apps, photo effects apps, and so on.
Art Apps for iPad
Vector Apps for iPad